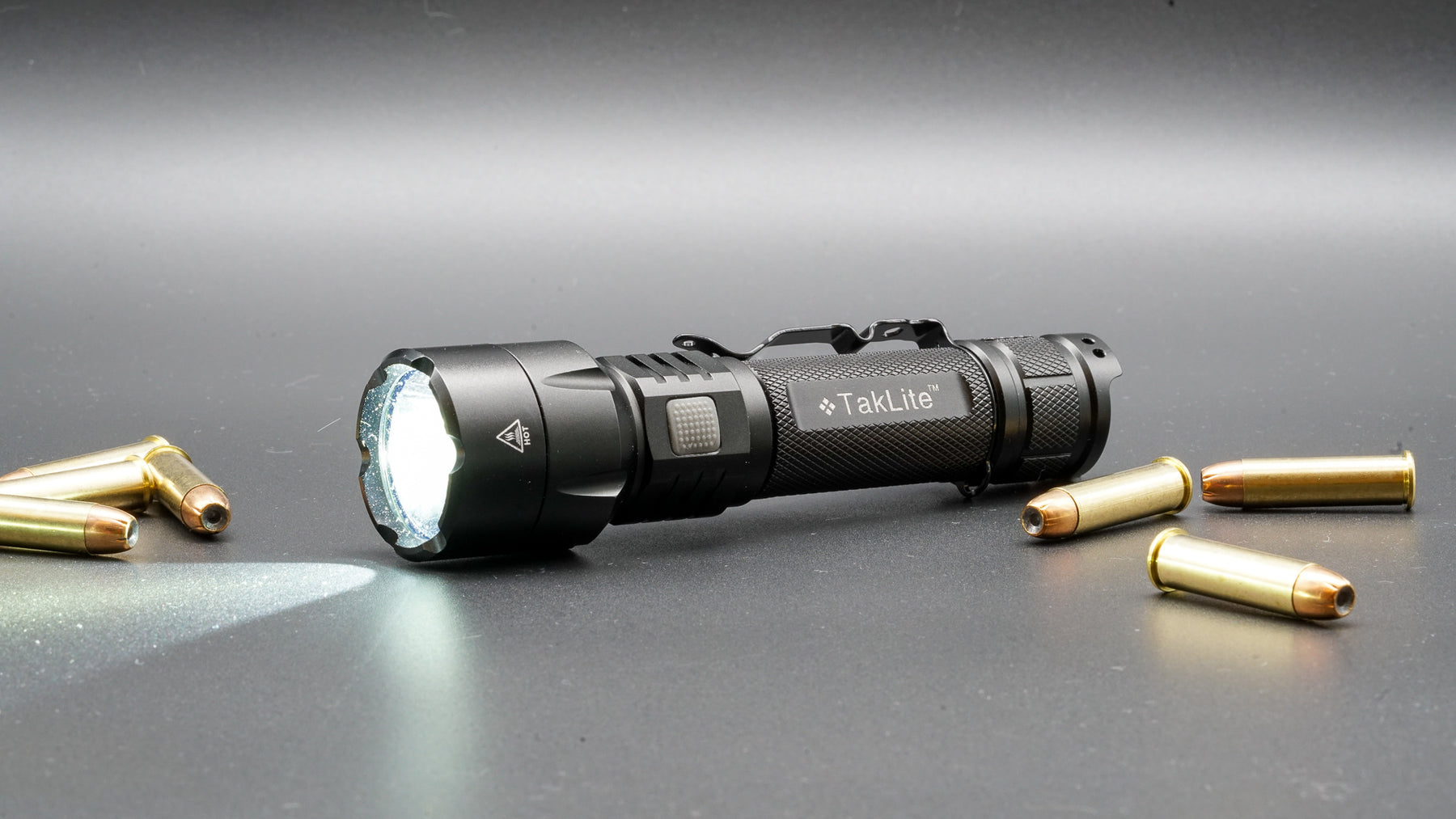 The TA-200 Flashlight Is Shaking Up The Industry
If you're anything like me, you probably scoff anytime you see the word 'tactical' being used to describe a product. Let's face it, the marketing industry has driven this word to the brink of extinction and things like tactical glasses are proof of how absurd things have gotten.

The issue with this phenomenon is it muddies the waters for real tactical products. Consumers are often left wondering what the word 'tactical' even means. Is it tactical because it's black? Is it tactical because an ex-NAVY Seal is promoting it?
While we can not answer what makes a pair of sunglasses tactical, we can offer some insight into why our new TA-200 flashlight is one of our most tactical products yet. 
The tactical world employs several different techniques when it comes to using a flashlight in conjunction with a handgun. You have the FBI technique, Harries technique, and several others. The one thing these techniques all have in common is the usage of a momentary flashlight. In this context, the term momentary refers to the ability of the flashlight to activate only with constant pressure. The millisecond you stop applying pressure, the flashlight turns off.
This is important because it allows the operator to change positions without allowing the enemy to see their path. Conventional flashlights operate in only a on or off capacity which is typically activated with a one-time press of a button. It may sound silly but the momentary functionality actually makes a lot of sense once you have tried it. In mission critical situations, you don't want to leave anything up to chance and having to fiddle around with an on/off switch is a recipe for disaster.
In fact, this concept isn't anything new in the world of weapon mounted flashlights. Most weapon mounted flashlights are sold with pressure switches or pressure pads which allow for momentary usage. However, we aren't talking about weapon mounted flashlights. We are talking about handheld flashlights which is why we believe the TA-200 is truly unique. It's one of the few flashlights on the market that have this sort of functionality.
Astute readers and TakLite enthusiasts are probably asking themselves, "Wait, I thought the TA-50 and the TA-100 had momentary switches?". It's true, these two models do have momentary functionality but the mechanisms are different. The TA-50 and TA-100 run on different circuitry which allows for a splitting of the active mode. In other words, you can choose if you want the flashlight to operate in a traditional on/off capacity or in a momentary capacity. 
Sounds pretty cool, right? While it does work quite well, I would make the argument that it's not as effective as the system used in the TA-200. For starters, TakLite has stated that the springs used in the TA-200's tailswitch were specifically designed to be more tactile and to offer greater resistance than what you would find in the TA-50 or TA-100. Furthermore, the TA-200 is overall less complex due to the addition of a side-switch which allows the functions of the flashlights to be split between more than just a single button. 
Last but not least, the TA-200 is TakLite's first flashlight to ship with battery bank functionality which means the flashlight can actually charge external devices via Micro USB. While this certainly isn't the first flashlight to feature this type of functionality, it's certainly refreshing to see a more notable brand starting to employ this technology. Don't forget, it took Streamlight and SureFire years before they felt comfortable using lithium-ion batteries regularly. Meanwhile hundreds of Chinese manufacturers had already been using them for well over a decade.
Despite technically being part of the TA product family, it is our opinion that the TA-200 should be in a class of its own. The build quality, design, and practicality are simply in a different league and it's refreshing to see some new life breathed back into the otherwise stagnant flashlight market. If you have an opportunity to pick up the TA-200 for under $70, we would highly recommend giving it a shot.