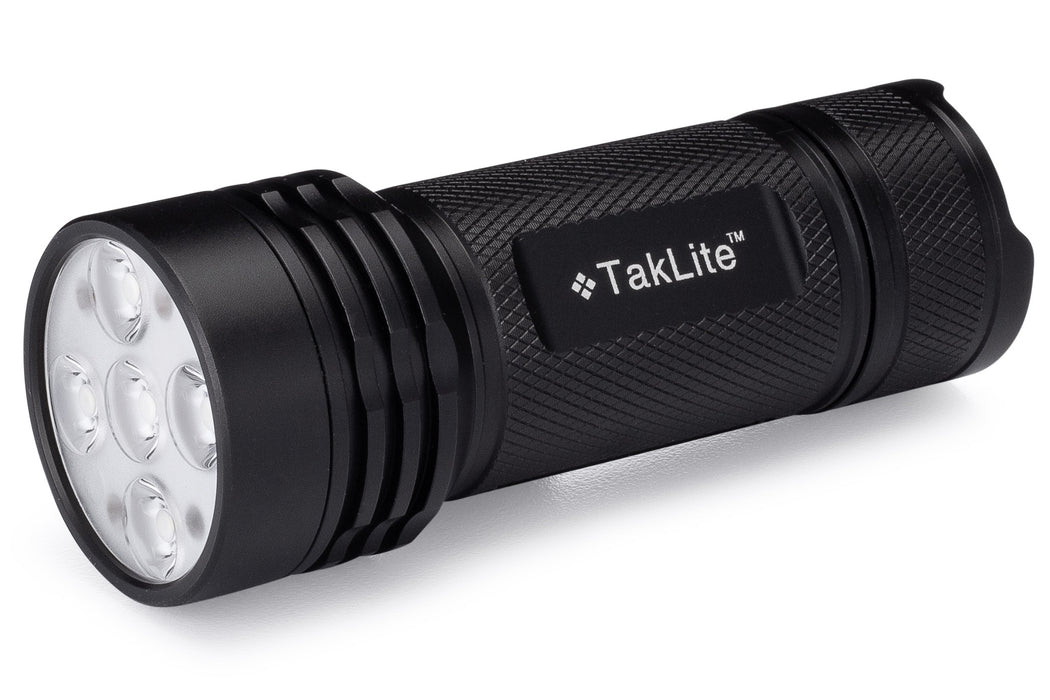 TakLite TA-100 LED Flashlight
Sold out
Original price
$ 49.95
-
Original price
$ 49.95

Package Includes
TA-100 Penta-Diode LED Flashlight

Embedded Charging 5000mAh Lithium-Ion Battery 
Nylon Double Weave Lanyard
Replacement Gaskets
Lifetime Warranty
Free Worldwide Shipping Direct From USA
The TA-100 is the newest flashlight released by TAKLITE and it's available exclusively online. This insane flashlight is an extension of the world famous TA-50 and boasts a number of changes.
For starters, it produces a lumen sphere verified output of 2000 lumens which is more than double the output of the TA-50. To make things even better, the TA-100 sets itself apart from the competition by dividing its current among five individual diodes rather than just a single diode. This allows the flashlight to dissipate heat more rapidly while also creating an improved beam profile which lacks hot spots. It also greatly extends the lifespan of the diodes since they are operating on the lower end of their performance capacity.
To help power this monster, a size 26650 Lithium-Ion battery is employed. It comes with a capacity of 5000mAh and uses the latest in embedded charging technology to ensure quick and easy charging via Micro USB.
There isn't much more to say about this flashlight. If you love the TA-50, then you will love the TA-100.  
Extra Benefits:
Tracked & Insured Shipping - We dispatch all orders via USPS Mail within 7 business day and gladly ship anywhere in the world. Orders are fully insured and shipped with full tracking.

100% Satisfaction Guarantee - We have no doubt that you will love your flashlight. But in the event you do need to return it, we offer a 30 Day hassle free money back guarantee with all orders. We will even pay for the cost of return shipping.

Rechargeable Battery - Your purchase will include a non-proprietary Japanese manufactured lithium-ion cell which can be recharged using the included Micro USB cable (free)

Accessories Included Free - Your purchase includes an ultra-durable nylon lanyard, replacement o-rings, a fully rechargeable battery, micro USB charging cable, and a lifetime warranty.