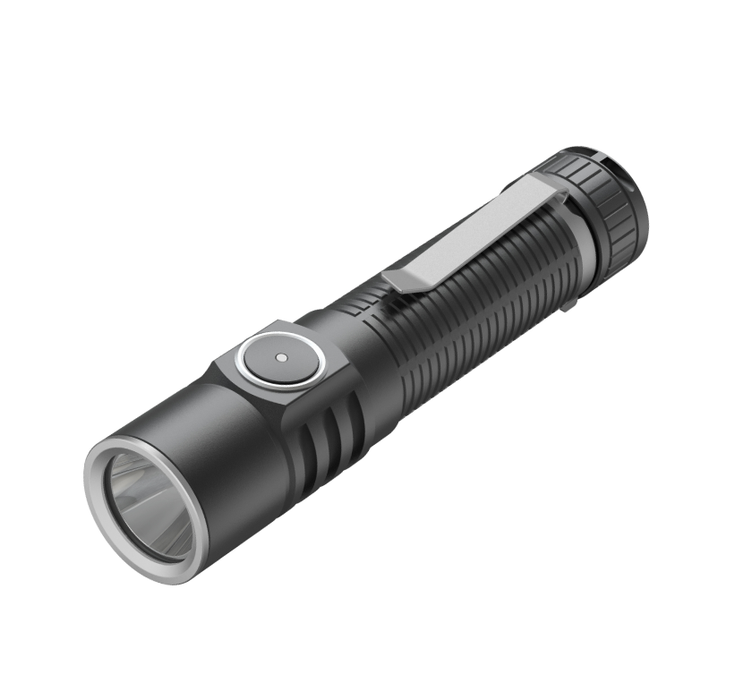 TAKLITE LUNA 2100 Lumen LED Flashlight
Original price
$ 44.95
-
Original price
$ 44.95
The LUNA is the newest and most powerful flashlight that we currently sell. It is legitimately a fire breathing monster producing more than 2100 lumens of laboratory tested power and is our first flashlight to require the use of a specialized high discharge battery cell. 
The design philosophy of the LUNA is a simple, powerful, and robust flashlight which does not have a lot of frills. It has five standard operating modes (moonlight, low, medium, high, turbo) and a strobe. It uses a single side-switch for operation which was designed to maximize durability.
It comes with a magnetic tailcap, standard belt clip, a fast charging USB Type-C connector, and a 3500mAh high discharge battery with PCB protection.
All in all, the LUNA is a true powerhouse of a flashlight in every sense of the word. It pulls 7 amps of current from a single 18650 and has a beautiful circular beam profile.
It measures 4.8 inches in length and 1.2 inches in height at the thickest portion.
WHATS INCLUDED:
TAKLITE

®

 LUNA 2100 LUMEN LED FLASHLIGHT

3500mAh High Discharge PCB (NCR18650GA) 3.7v Lithium-Ion Battery

USB Type-C Charging Cable

Lanyard, Belt Clip, and User Manual

Five Year Warranty 
NOTICE: The TAKLITE® LUNA is a high discharge flashlight. On the most powerful setting, it pulls upwards of 7A of current from the battery. Do not use other batteries with this flashlight without reading our battery warning first.