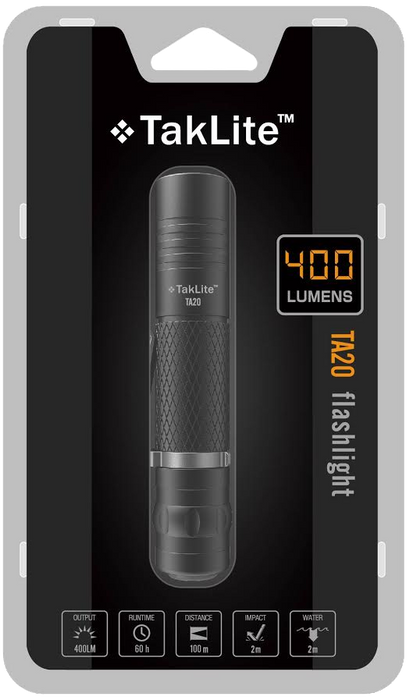 TakLite TA-20 LED Flashlight
Sold out
Original price
$ 19.85
-
Original price
$ 19.85
INTRODUCING THE TAKLITE TA-20 LED FLASHLIGHT
The TA-20 is currently our brightest alkaline-powered flashlight. It is constructed from the same aeronautical metal used in our pistol lights and features the same IPX-8 waterproofing and drop resistance.
Unlike many of our other flashlights, the TA-20 features an excellent safety profile due to the power source being a traditional alkaline battery (AA). It's a great flashlight for children, the elderly, or anyone else who doesn't want to be bothered with the potential hazards of lithium-ion batteries. This is a very popular pocket light for those working as maintenance personnel or in marine environments.
Despite it being marketed primarily as an alkaline flashlight, performance geeks and flashlight enthusiasts will also be happy to know that the TA-20 is actually lithium-ion compatible with the popular model 14500 cell. This allows the user to unlock the 400 lumen mode.


EXTRA BENEFITS:
Tempered Aeronautical Aluminum Design - You wont find any plastic used in our flashlights. The entire flashlight is constructed from the same tempered aluminum used in military aircraft around the world. It has an incredibly high tensile strength while also being remarkably resistant to corrosion. 

Hybrid Power Capabilities - The TA-20 can be powered by either a traditional alkaline battery or purpose-built lithium-ion batteries. This makes the TA-20 a great fit for both the average consumer and the experienced flashlight nut. 

Multiple Modes - Three standard operating modes are available with the TA-20 (High, Medium, Low)

Dual Purpose Tailswitch - The TA-20 features our proprietary tailswitch design which allows users to separate mode selection from on/off selection. Previous generation flashlights suffered from an issue where a single button was responsible for both mode cycling and powering on the device. The TA-20 solves this annoying issue by using a soft-press for mode cycling and a hard-press for on/off.
Video
Specifications
| | |
| --- | --- |
| Brand | TAKLITE TA-20 LED FLASHLIGHT |
| Battery Type | Alkaline (AA) or Lithium-Ion (14500) |
| Power Output | High Mode Alkaline: 150 Lumen, High Mode Lithium-Ion: 400 Lumen |
| Item Dimensions | 3 (L) * 0.35 (W)  |
| Item Weight | 28 grams |
| Modes | High, Medium Low |
| Design Materials | Tempered Aluminum (T6) with a CREE diode |